Steel Rubber Motorized Head Drive JIS Conveyor Drum Pulley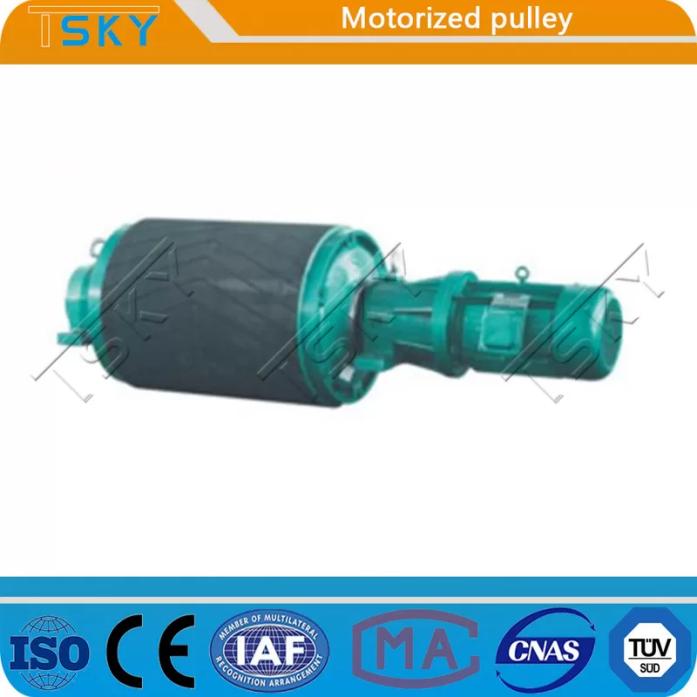 Basic Information
| | |
| --- | --- |
| Place of Origin: | Qingdao China |
| Brand Name: | TSKY |
| Certification: | ISO, CE, BV, FDA |
| Model Number: | YTH,TDY75,WD,YZ,DY1,JYD,YDB,YZWB |
| Minimum Order Quantity: | 1 sets |
| Price: | Negotiable |
| Packaging Details: | pallet, container |
| Delivery Time: | 5-8 working days |
| Payment Terms: | L/C, D/A, D/P, T/T, Western Union |
| Supply Ability: | 5000 sets/month |
Detail Information:
Material:

Steel, Rubber

Color:

Customized Colors

Type:

Head Drive Pulley

Condition:

New

Standard:

DIN, JIS, ISO, CEMA, GB

Application:

Cement, Mine, Coal Mining, Quarry, Industry

Size:

Customized Size, Upon Drawing

Bearing:

NSK, SKF, HRB, Ball Bearing, NTN

Surface Treatment:

Hot Dip Galvanizing Smooth Steel, Rubber Coat, Herringbone, Rhombic Rubber Lagging






High Light:

JIS Conveyor Drum Pulley,

50Hz Conveyor Drum Pulley,

JIS motorized drum pulley
Product Description:
Motorized pulley:
Motorized pulley is a new type of driving device that puts the motor and reducer together inside the pulley body. It is mainly used in fixed and mobile belt conveyors, instead of traditional motors, separate drive devices with reducers in addition to the drive pulley.
Motorized pulley working conditions:
1. The operating environment temperature is -15℃, +40℃;
2. The altitude does not exceed 1000 meters;
3. The temperature of the conveyed material does not exceed 60℃;
4. Voltage 380V, frequency 50Hz.
Motorized pulley range:
As the power of belt conveyors and lifting equipment, motorized pulley are widely used in mining, metallurgy, chemical, coal, building materials, electricity, food and transportation sectors.
Motorized pulley features:
1. It can replace the widely used motor-reducer type external drive device to form a belt conveyor, which can transport bulk materials such as coal, ore, sand, cement, flour, etc., and can also transport finished items such as hemp bales and equipment .
2. The structure is simple and compact, and the space area is small.
3. It is well-sealed, suitable for working places with high dust concentration and damp muddy soil.
4. Easy to use and maintain, safe and reliable operation, and long life.
5. Low energy consumption and easy to realize centralized control.
6. It can meet all kinds of backstop, brake, rubber coating and other requirements.
Selection instructions
If you need the drive pulley, please refer to the follow picture and fill the size what you need in the tabulation ;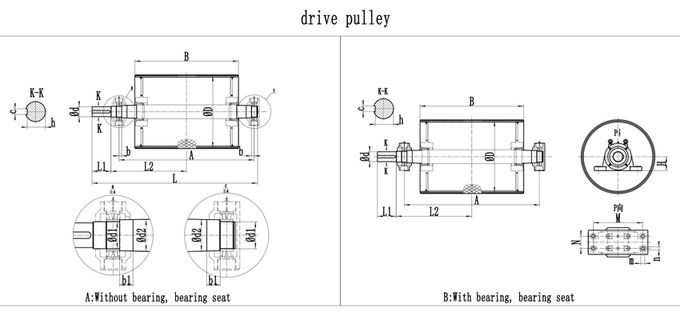 If you need others, such as tail pulley, bend pulley, tension pulley, etc. please refer to the follow pulley picture and give the pulley's size and requirement you need.