What are the structure and advantages of concrete mobile mixing station ?
Time:2023-02-04 15:47:00
Read:151
Mobile mixing station is a highly integrated concrete mixing station. What are its structure and advantages ?
This machine is suitable for users who often change venues or move venues. It is flexible and suitable for construction.
Customers in the field of concrete mixing station.
One. The composition of mobile concrete mixing station : 1.Mainframe chassis : cantilever stirring mainframe chassis, chassis includes trailer traction pin. Stop legs ; the mixer is placed on the chassis ;
measurement table of cement and water admixture ; there is an inspection table around.
railing, etc. Control room : the control room is located at the bottom of the main engine chassis, equipped with automatic control system of mixing station, the control system is the same as the fixed mixing station. As the front support point of the whole station, the control room is collected in the bracket, and all control lines need not be disassembled.
The hopper is equipped with a heightening plate to increase the storage capacity. Pneumatic open the door in turn. Aggregate measurement is a cumulative measurement method for various materials. The bottom is equipped with a walking rear axle and a working frame leg.
Aggregate composition measurement : The system is located at the rear end of the entire station, the upper part of the aggregate ( sand ).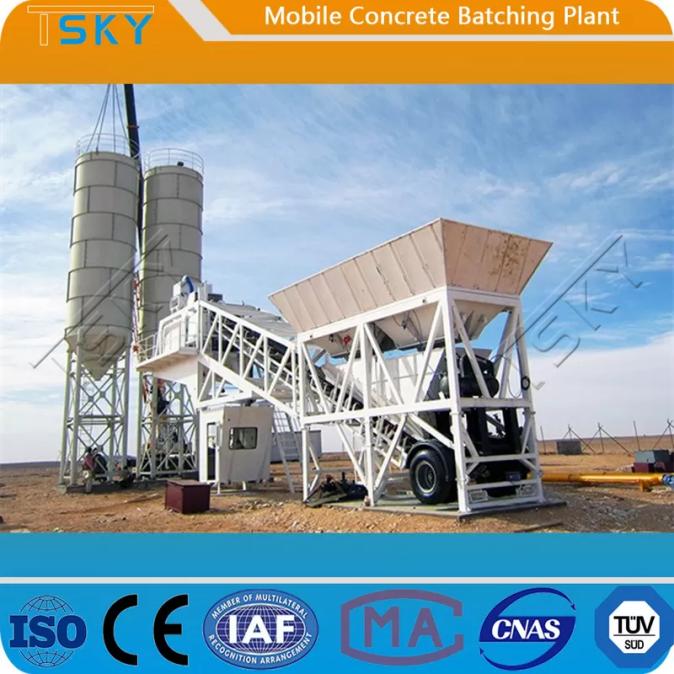 Two. The advantages of mobile concrete mixing station :
The main machine adopts forced double horizontal shaft mixer, which has the characteristics of short mixing time, fast unloading, uniform mixing and high productivity. All kinds of concrete, such as dry hard, reliable quality.
2.Measure cement. Water. All additives are weighing bucket, accurate measurement, microcomputer centralized control, simple operation. Easy to tune. Reliable. Aggregate adopts two feeding methods : bucket lifting or belt conveying. The aggregate is measured by electronic scales or individually.
3.greatly improve the service life of the host. Unique shaft end support and sealing type. Siemens electrical components are selected for reliable performance and high production capacity, which is suitable for large-scale concrete production on site. The mixer liner and mixing blades are specially treated with wear-resistant materials.
4.The station has complete functions and ingredients. Stir. Measurement. It is composed of control system, small footprint, high cost performance, suitable for small and medium hydropower. Highway. Port. Airport. Bridges and other mobility engineering construction.